NEWS FLASH!
Autoimmune isn't caused by one thing, which is why it isn't fixed  by one thing.
Working with your doctor is critical ... so are consistent daily habits & skills scientifically proven to improve inflammation, physical symptoms and quality of life while living with autoimmune.
Skills your doctor doesn't have time to teach, a supplement can't fix and the internet fails to customize to your busy life! 
The main reason why women continue to struggle with frustrating fatigue,  symptoms & flares?
THEY'RE STUCK IN A CYCLE OF CHRONIC INFLAMMATION WHICH SHOW UP AS ...
FATIGUE & BRAIN FOG: Waking up exhausted and having to push through the day. You're a walking zombie, wearing a mask, and having problems recalling even the simplest things (where are the dang keys?!). 
MUSCLE & JOINT PAIN: There's the everyday discomfort of having to hobble across the floor when you first walk up, and then the "OMG" acute flare that forces you to take the day off work or grit your teeth while you try to pretend "everything is fine".
EMBARRASSING & UNPREDICTABLE DIGESTION: Gas, burping, nausea, heart burn, constipation and diarrhea that has you leaving the room or sitting for hours. It's a problem during meetings and you have a mental map of all the clean bathrooms in town (just in case).
WEIGHT & METABOLIC CONCERNS: You lost too much in a flare OR now you're gaining while barely eating! You want to get back to a healthier weight, feeling strong, while also working on other aspects of metabolic health that are starting to swing out of balance ... insulin resistance, cholesterol, blood pressure,  and hormones! 
CONFIDENCE & MOOD: you're smart, capable and frustrated you haven't had more progress. You're wearing the stress on your face at home and work, and feel overwhelmed ... reacting to your health and situations at home and work, instead of guiding it.
IF this is you, then an integrative plan is exactly what you're missing. 
Autoimmune diagnoses are growing 17% annually, and once you have one autoimmune, you have higher risk of developing others. 
This means MORE symptoms, wait times + expense to see specialists ... while the list of medications and complications grows yearly. 
And while the Internet is flooded with information on "natural care for autoimmune," it's hard to tell who are what is right or legitimate. What can you take to your doctor and family with confidence in knowing that it integrates with your larger health plan?
For women who want to feel like themselves again ... productive, awake and in control of  their bodies and health ... 
All the research, diet and pill hopping ... feeling guilty when you need to say no or lie on the couch after work ... It takes a huge mental toll.
"Maybe this ONE new medication, supplement or food will help" ...  And when it doesn't, you feel like you've failed or your body is broken or you're not doing enough when you already giving 150%, stuck in cycle of chronic inflammation.
We know this because we have lived this. And we are here to help.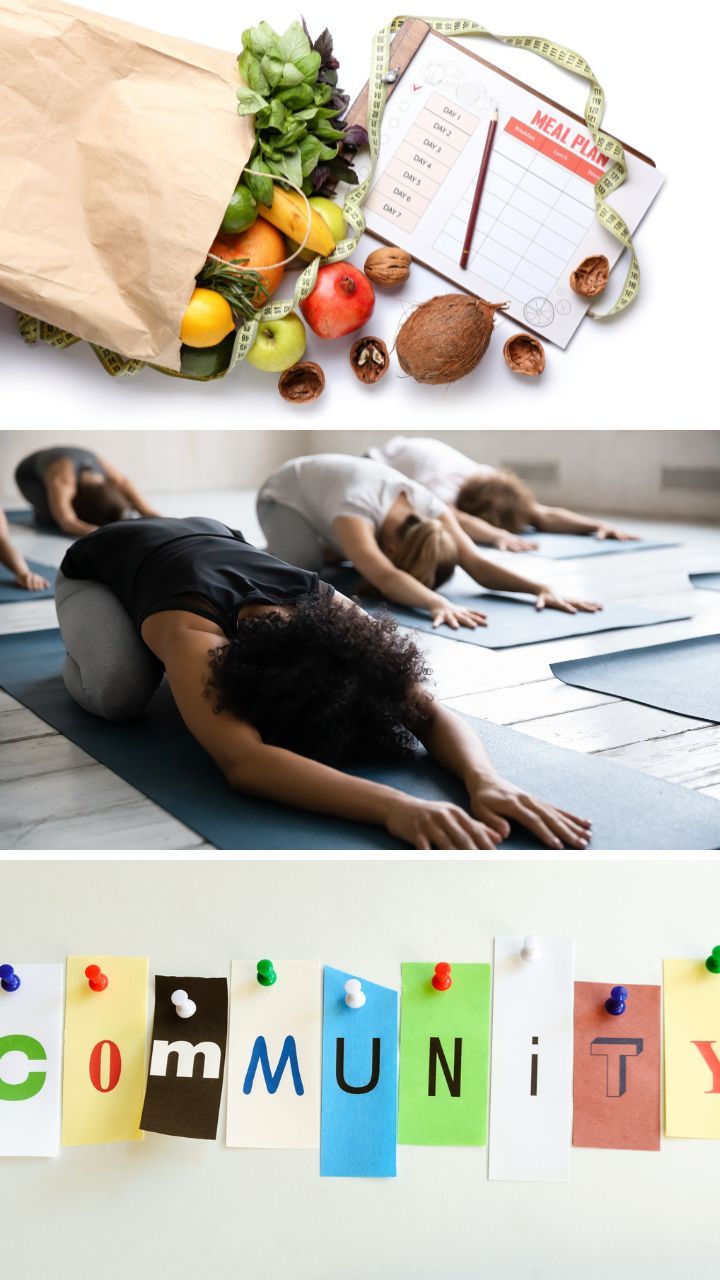 This is why we created...
The Integrative Autoimmune Network
Our step-by-step monthly membership fills a major gap in autoimmune healthcare ... an affordable bridge between medical and proven natural support.
We help women & families improve flares & fatigue with research-backed eating and lifestyle changes for better immune regulation, digestion & stress tolerance.
We bring several autoimmune specialists under one roof with one focus ... helping you regain control over your body so you can start feeling like yourself again.
We are the perfect blend between science and practical, providing the tools your doctor recommends with personalized coaching so you feel heard, supported and motivated for the best possible outcomes.
Everything we do is simple so it integrates with your medical plan and fits seamlessly into your busy life. 
What Does The Integrative Autoimmune Membership Include?
VIP Onboarding For Greater Success
No matter your experience (newly diagnosed or veteran warrior), we personalize your membership from day one so you know which part of The Network will bring  the most benefit to where you are right now.
This includes a private onboarding call and condition-specific action steps (IBD, Thyroid/Adrenal, MS and Rheumatic disease). 
We get that change can be difficult, which is why our success paths have week-by-week instructions. We also host weekly coaching calls & live classes plus a private membership community so you can connect with other women with the same goals, experiences and challenges.
You are never without guidance, opportunities for feedback, motivation or a roadmap to follow.
A Skilled Nutritionist + All The Recipes and Resources You Need In Your Back Pocket
No more staring into the fridge, wondering what to eat! The Network helps you decide what eating plan is best for you and your condition AND, we simplify the process with our signature method so you can find meal ideas that work for you as well as your family. 
Included in your membership:
Work with a certified nutritionist who is a mom to an autoimmune teen and has her own DX's. She'll support you in a group setting & during your private onboarding call
Follow our Reality-Based Meal Planning Method 

for a six week course that creates less stress at mealtime and more fun with food

Enjoy delicious, research-backed eating plans

for beginner and veteran warriors, including ITIS, Paleo, AIP and other therapeutic diets that are medically recommended for certain situations

BONUS: Time saving resources:

 over 400 x 30-Min-or-less-recipes,

 four weeks of 

done-for-you meal plans + grocery lists, and budget-saving tips

 
BONUS: Thematic recipe books for freezing, holidays and seasons to help with batch cooking, time and energy! 
BONUS: Library of practical cooking tutorials

so you can learn to cook and laugh along with us

BONUS: Health Talks & Guest Speakers

 for deeper dives into root causes of autoimmune and essential skills for living well with chronic illness
Yoga, Meditation & Breathwork Created Specifically for Autoimmune
These practices are often medically recommended to lower chronic inflammation & support autoimmune ... BUT people don't know how to get started or feel like they don't have enough time in the day!
Our classes for anyBODY are taught by two yoga/breath specialists who together have over 1,600 hours professional training and 20 years teaching experience.
They're also living well with autoimmune of their own while living full, busy lives.
Their focus is helping our members improve strength, range of motion, flexibility, balance and energy ... keys to building resilience! 
Included in your membership:
Yoga classes that fit into your busy week 

(15, 20, 30 and 60 Min classes), plus targeted classes for mobility, strength, sleep, digestion, energy, hormones and more!

Breath and Meditation classes that are 10 Min or less

to help increase focus, reduce stress and improve clarity during good times and bad, whether you're at home or work

BONUS: On-demand library of 80+ yoga classes for all of levels experience,

 

including mat, standing and chair

 

so anyBODY can benefit

. Types include Hatha, Restorative, Chair, Adaptive, Yogic Sleep, Pranayama & Yoga for Stress Release
BONUS: Library of thematic breathwork & meditation classes

 

for improved energy, focus sleep, digestion, pain and other aspects of autoimmune

BONUS: Embodied Breathwork For Autoimmune Mini-Course

combining neuroscience with trauma release and much deeper breath patterns and longer sessions
We Even Have An App For That!
You can access your all aspects membership on your computer, ipad or phone with our easy APP ... recipes, classes and resources at your fingertips, no matter where you roam (work, vacation, home, the park!). 
Interested? Join The Jumpstart And Try It For Free!
Curious? 

Join The January Jumpstart & Try It Out At No Cost! 
The January Jumpstart is a free 2-week micro-membership within our larger membership. During your time with us, we will help you with some very specific things.
Get started on an easy, proven & sustainable eating plan for autoimmune, so you don't second guess what to eat or feel deprived at mealtime
Try our mindful yoga classes, created by women with autoimmune (suitable for all levels of expertise, aches/pains and body types) 
Integrate meditation or breathwork into your busy day (short, intentional guided classes)
Feel supported in our live group coaching calls so you can meet the team and ask questions
Get more insights during a complimentary 15-Min private convo with our founders to determine if an ongoing membership is the right fit for you
Connect with our community and members where you can post and ask questions for additional support
Pick and choose what's best for you and there is no obligation to stay on if you decide it's not right for you at this time.
Sign Up To Start The New Year With An Integrative Plan!
And if you decide to stick around ... 
Reduce flares & symptoms at home, while working with your doctors
Nutrition, yoga, breathwork, meditation, sleep ... these are medically recommended to reduce inflammation and help improve quality of life while living with chronic illness (energy, joint/muscle pain tolerance, digestion, antioxidants, healthy weight, metabolic health).
Eat to beat inflammation with tasty, enjoyable food as medicine
Every bite can influence cellular health. No more last-minute panicking about what to eat and when. Use Reality Based Meal Planning with principles from the Autoimmune Nutrition Triad to create meals for the entire family that are easy, effective and tasty ... so important on days you feel tired and uninspired to cook.
Build physical strength one step & breath at a time 
Overcome exhaustion & pain with mindful movement ... small, intentional changes so you can improve strength, flexibility and the mental/physical capacity for healing.
Improve stress tolerance for work, home and more play!
Recover from flares and move through stressful situations (work, home, life) with greater ease, feeling more grounded and in control. RESILIENCE.
Improve metabolic markers of health for less worry
Blood work, hormones and weight ... nutrition, digestion, movement and nervous system are all proven to help lower inflammatory markers such as blood sugar, cholesterol, blood pressure and more.
Meet your experts with 30+ years combined experience
MS, Hashimoto's, Rheumatic Disease, IBD, Psoriasis
Vanessa Bond, BA, CNP, AIP Certified Coach has 10+ years of clinical experience, along with being the mom of an autoimmune  teen who is living well with a rare rheumatic auto-inflammatory condition called CRMO (similar to RA or JIA). Vanessa also has psoriasis/eczema and an IBD. She understands bone-aching fatigue and flares that can make children & adults cry in pain & frustration.
Vanessa's approach to autoimmune is supporting the gut, lymphatic and nervous systems, in addition to cellular health. Food is a critical part of the solution, as are lifestyle changes for improved stress tolerance (how we digest life).
Vanessa is a professional advisor to the student clinic at the Institute Of Holistic Nutrition in Canada, and has additional professional certifications in endocrine support, blood sugar management, gut health, AIP and functional lab testing.
Loraine Burt, BA, is a Certified Yoga Instructor with 1200+ hours in professional training (Esther Myers, Naada) and 10 years experience in working with clients. She's a children's author (Unicorn Caitie), mom to two amazing young adults, and a Toronto District School Board approved instructor.
Lori is living well with Hashimoto's and has autoimmune in her family.
She strongly believes in a mindful approach in how we live our lives to protect our precious energies and nervous system. With a background in employee health benefits, she understands the impact stress has on inflammatory disease & symptoms. Her passion is helping members live mindfully at home and work, so they can lead healthy, productive lives. She takes a gentle restorative approach in working with our team & makes yoga accessible for all body types.
Kristin Wedding, MA is the CEO of Vyana Wellness & Yoga, a Certified Wellness Coach, Registered Yoga Teacher, and Pause Breathwork Facilitator with over 400 hours in professional training.
She has been thriving with multiple sclerosis and chronic pain for 10 years while also being the mom of two young girls at home.
With a background in public health, Kristin believes stress is one of the biggest root drivers of autoimmune and its physical, mental, and emotional symptoms.
Her professional and personal experience, combined with her specific focus on yoga and breathwork practices for autoimmune, stress & trauma is  is a special addition to our membership team that is hard to find in the autoimmune community.
Our mission is to help you build both physical and emotional resilience while living with chronic illness.  Everything we recommend is designed to INTEGRATE with your larger health plan, not replace it.
What sort of results can you expect?
Less flares, fatigue and symptoms mean ...
More energy for friends and family, more patience for your kids, partner and coworkers, more confidence in your body and ability to better control your disease, and going to your doctor with GOOD news, not complaints!
Like you, our members have a combination of diagnoses or symptoms: rheumatic, arthritic, neuromuscular, IBD, thyroid, insulin resistance or others.
Members who apply our methods can expect a 50% improvement in energy, inflammation and digestive symptoms in 3 months time, and a 5 to 20 lb weight rebalance.
We know because we measure!
Start Your 14-Day Free Trial & Experience It For Yourself 
Why Is The Network Different?
What Results Can I Expect?
Why Is This Price So Low?
What Is The Cancellation & Free Trial Policy?
I'm Busy. How Much Time Do I Need To Commit Each Month?
What If I Don't Want All Three (Nutrition, Yoga, Breath)?
What If I'm Working With A Holistic Doctor?
When Will New Content Appear?
What Age Do You Need To Be To Participate?
What members say...
"I joined because I wanted support, not more information. I like that it's run by several experts in their fields who direct you to things that help you move forward in your health, with data and research to back what we're doing," (Nicole, Cardiac Nurse, AS).
"There is a lot of detail, step by step information and a supportive team." (Brenda C, Sjogrens, FIbro and RA).
"After 2 weeks on the diet one of my more challenging symptoms decreased immensely." (Shelly H, Teacher, MS)
"The breathwork and yoga have helped calm my nervous system. Practicing the breathwork, even a few minutes while stressed during the day helps" (Lorraine, Business Owner, Oral Lichen Planus).
"I knew I needed more than just medication. I had tried some dietary changes on my own as well as with the help of a dietitian. None helped much." (Monika, Retired, Lymphocytic Colitis)
"I wanted to add a yoga practice into my daily life, but I wasn't able to do 'normal' yoga because of my mobility restrictions." (Karin, Busy Mom and Artist, RA, Hashimoto's, Type 2 Diabetes)
"Wonderful info and learning about more about mind and body connection. Food paths, insights into autoimmune nutrition, yoga & breathwork, coaching calls, community support" (Cammy, Working Mom, Fibromyalgia, Uveitis)
The Integrative Autoimmune Network
Less than $40 USD/month for a whole-body approach, all in one place
Three experts in their own fields (holistic & functional nutrition, movement, nervous system)

Private 30 Min onboarding call to map out your success path

Step-by-step directions every month, so you don't go off track
Two hours live coaching every month with an expert nutritionist to help you implement meal solutions at home
Two more hours of live yoga and coaching classes for motivation, accountability 
80+ on-demand yoga classes created by women living with autoimmune and designed specifically for autoimmune, all levels of experience and all body types
Library of breathwork sequences and meditations specific to autoimmune challenges and mindset that fit into your day (at work, home, in the parking lot, doctor's office)
400+ autoimmune specific recipes + 12 weeks of done-for-you meal plans you can customize to your life (and always stay inspired)
Three signature courses to help you go deeper in autoimmune nutrition, breathwork and yoga
Member-requested content every month (hormones, gut health, joint/bone health, brain health, metabolic considerations, work/life balance)
Access to live guest speakers to ask questions, professionals you might not otherwise be able to speak with
What You Might Be Doing On Your Own
$150 - $1,000 monthly in all different places
One-off appointments with a nutritionist ($150/hr)
A 12-week group program that targets only one aspect of health and doesn't provide ongoing support 

($999 to $3,000)

Weekly appointments with chiro or physio, who are encouraging you to do more at home ($75+/session)
A cook book with 25 – 30 recipes that use strange ingredients & no customization for your situation ($29)
Meal plan subscriptions ($25 - $75/month, not customized to your body or family likes/dislikes)
One-off yoga class ($19, not including drive time or parking, with no practice in between)
One-off breathwork  or meditation class ($25 - $65/hr, with no practice in between)
Generic apps ($25 – $79/month, not specific to autoimmune challenges with no community or professional guidance)
Free online communities often with victim mindsets, no professional plans or guidance
Podcasts that are one-way communications and no guidance on implementation
PLUS the TIME to duct tape all of this together!
We've made it easy and pulled these resources together for you!
The Network is perfect for you if...
You want to reduce flares & inflammation in the next 3 to 6 months using proven natural methods that integrate with your medical plan
You want to improve energy & focus so you're more present for your family and work, and still have time to make your health a priority
You want affordable, professionally-guided resources all in one place (no more Internet surfing)

You value personalized, professional feedback so you feel heard and supported

You like following a monthly plan, checklists and steps so you can stay organized and on track 
You want to enjoy eating for health, so you feel nourished and not deprived at meal time 
You like fast, easy-to-follow recipes with simple ingredients you can find at your local grocery store
You have the goal of improving mobility, strength and fitness, no matter your body type or level of fitness
You want to improve your stress tolerance at work and home, so you have more patience and focus for your family and can continue working with less fatigue and physical setbacks
You want a community so you can connect with real people and other women, sharing stories and helpful advice
Too good to be true?
A personal note ...
Our communities and clients told us (loud and clear) they want affordable, monthly professional guidance and support because autoimmune is a lifelong relationship that isn't fixed by just one thing.
In 2022, we created what they asked for and quite frankly, there isn't anything like this for autoimmune with this level of expertise, years of professional & personal experience and human support at this price, which is why a growing body of doctors & health professionals recommend our membership to their patients and clients.
It is our personal mission to remove the physical, emotional and financial strains of autoimmune, so you can feel empowered in your health and ability to work with your body, no matter what life throws at you.
We are committed to supporting YOU ... the person ... Which is why we offer a free trial. We don't want to pigeon-hole anyone into a program or service that may not be best for you at this time. 
It's really that simple.
So, if you're ready for the next step in building resilience, we invite you to join us. It will be our honour to support you.
Doors Open December 30th!