Build resilience with proven nutrition & lifestyle support for autoimmune
The must-have nutrition, movement and mindset membership for women with rheumatic, neuromuscular or IBD autoimmune who want to restore energy and build physical & emotional resilience while living a full, productive and rewarding life.
Start Your Free 14-Day Trial
Stop us if we're wrong ...
You've Stalled In Your Healing
You've made some changes, but things aren't sticking. It feels like you're missing something.
Recurring Symptoms
Fatigue. Painful Joints & Muscles. Digestive Dilemmas. Weight. You have a combination of symptoms that keep coming back, and you're worried about more medications.
All The Things
You've spent countless hours researching and don't know how to turn all the info into a simple, actionable plan for YOUR body.
Daily Cycles
You wake feeling sore, groggy and nauseous, and it takes a while to get going. You wonder how to get through the last two hours of work with no energy for dinner, laundry & family. At night, you lie awake feeling exhausted, but can't sleep. Your mind is already in tomorrow
Blessed With A Busy, Full Life
You're a problem solver and like being productive with plans A, B, C & D running through your head. You try not to over do it and recognize stress impacts your health, but "stress management" isn't on your daily list. Who has time?
Fitness Fall-Backs
You want to be more active, and are hesitant to sign up for anything because of your symptoms, so you're walking when you can. And when you finally hit the gym or a class with friends, suddenly you're sick a few days later.
Proof of Life
You want to prove to yourself and the world that your body is not attacking itself, that you're actually in sync and you're not a victim to a diagnosis.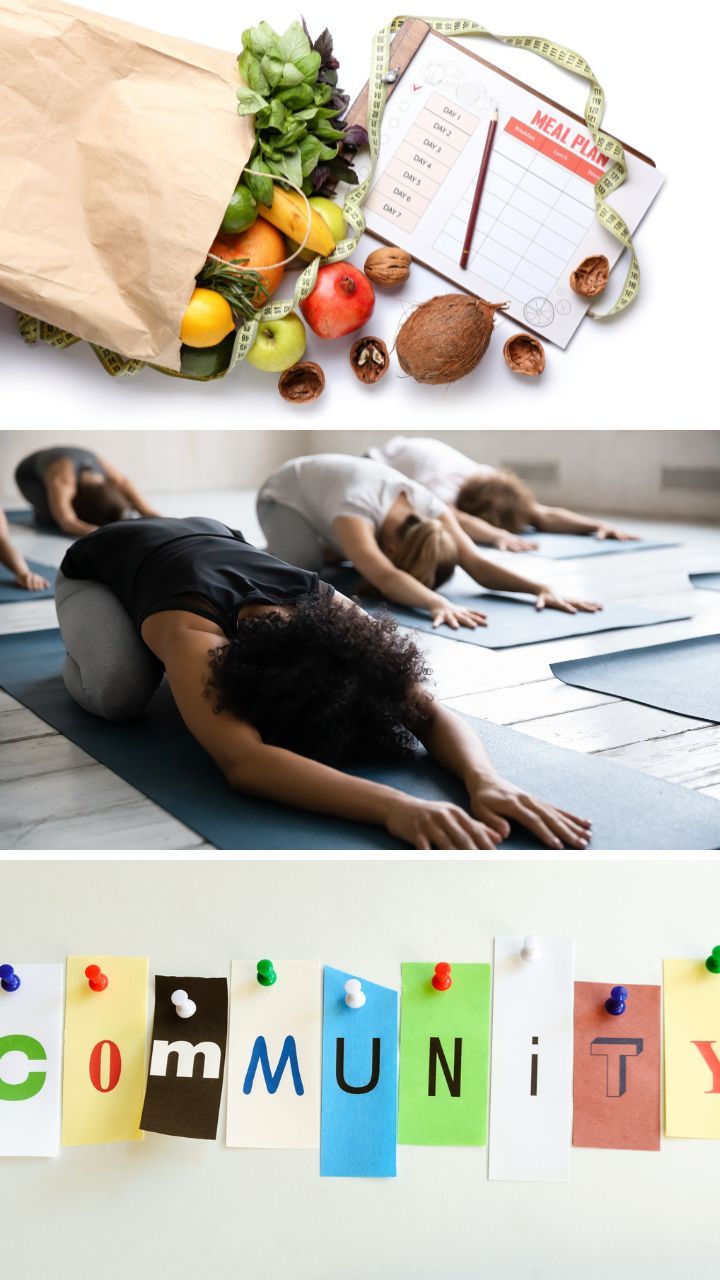 This is why we created ...
The Integrative Autoimmune Network
A monthly membership that combines professionally guided nutrition, breathwork and mindful yoga specific to autoimmune under one roof with one focus ...
Helping YOU stay in control of your health using evidence-based tools for improved energy, pain, inflammation and metabolism.
Having worked with hundreds of women with rheumatic, neuromuscular and IBD autoimmune we understand solutions need to be based in science AND flexible to fit into your lives.
Tell Me More!
The Integrative Autoimmune Network helps you …
Master skills to help reduce inflammation at home
Work alongside your doctors with our medically recognized techniques for autoimmune-related pain, fatigue, inflammation and weight.
Eat to beat inflammation
Remove the guesswork of what foods & recipes are best for your body or condition & follow our research-backed nutrition plans so using food as medicine when you're tired, sore and uninspired is simple AND effective.
Become stronger & more active one step & breath at a time
Work with our experts to improve not only physical fitness, but mental resilience when trying to overcome fatigue, sore joints/muscles and other physical limitations.
Feel & look more like yourself
Reduce physical & life load stressors that hijack digestion, metabolism and hormones, without calorie counting, supplements, excessive exercise or celery juice.
Improve stress tolerance to better weather the ups/downs of chronic illness
Embrace a whole body support system because building resilience is more than just medications, supplements, food and movement.
Action Steps + Guidance = Predictable Results
The Network targets underlying imbalances for flares and provides the professional trainings & the accountability you need 7-days-a-week to so you stay on track in between your feel focused & supported in progress every step of the way.
Enjoy what you're eating with less physical reactions

Improved fitness, flexibility & range of motion, feeling connected to your body

Improved stress & hormonal response for whatever life lays in your path
Members who implement our nutrition success path can expect a 50% improvement in energy, 30% improvement in pain scores, 70% improvement in digestion in the first 8 weeks.
Affordable, Professional Guidance In One Place
Our members have a combination of diagnoses, including RA, Fibro, AS, PsA, Lupus, MCTD, MS, IBD, thyroiditis and other neuromuscular & skin autoimmune, along with co-conditions like Insulin Resistance or Type 2 Diabetes.
Go back to the doctor with progress,

working on your health in between your specialist appointments

Make the most of your time with resources & accountability in one place
Focused steps every month for less time wasted figuring out what you "should" be doing
Stay productive at work and home, minimizing sick days and having to rely on others
Know what your body needs to heal at any stage ... when you're feeling well to what to do during a flare or setback
Find a fatigue & joint friendly fitness routine you enjoy, instead of believing "that's too difficult for me"
Reduce dependency

on over-the-counter medications and un-necessary supplements that target only one aspect of healing
Help break the generational chain of autoimmune by teaching your family new habits
Meet your team with 30+ years experience
Vanessa Bond, BA, CNP, AIP Certified Coach brings over 10 years of clinical experience, along with being the mom of a teen with a rare rheumatic auto-inflammatory condition called CRMO (similar to RA or JIA) who is living well. The nutrition and health strategies she shares in this membership are what she uses with private clients and were key in changing the trajectory of her daughter's health. She feels these skills are critical to learning how to rebuild physical health.
Loraine Burt, BA, is a Certified Yoga Instructor (Esther Myers), children's author (Unicorn Caitie), mom to two amazing young adults, and a Toronto District School Board approved instructor. With a background in employee health benefits, she understands the impact stress has on inflammatory disease & symptoms. Her passion is helping members live mindfully at home and work, so they can lead healthy, productive lives.
Kristin Wedding, MA is the CEO of Vyana Wellness & Yoga, a Certified Wellness Coach, Registered Yoga Teacher, and Pause Breathwork Facilitator. She has been living well with multiple sclerosis and chronic pain for 10 years. She believes stress is one of the biggest root drivers of autoimmune and its physical, mental, and emotional symptoms. Kristin's expertise developing yoga and breathwork practices for autoimmune, stress & trauma - combined with her role as a busy mom AND thriving with MS - is a special combination that is hard to find in the autoimmune community.
As professionals who have worked with hundreds of women & learned to live well with chronic illness, we empower our members with proven plans and guidance so you can actively work on you health & master the skills you can control to complement your medical plan.
Created With Intention & A Clear Purpose ... YOU
Clear, specific steps to follow every month without time restraints, perfectionism or pressure to complete a program.
A caring professional team for accountability & inspiration so you continue to move forward & experience the changes you deserve.
A community of like-minded women working on the same goals, lifting each other up.
WHAT'S INCLUDED?
You'll receive immediate access to our resources:
Member success paths: either nutrition or breath/movement, depending on your immediate health goals
Onboarding call to help you get settled
High level of support & coaching for real time feedback
Delicious, easy to prepare autoimmune-friendly recipes, grocery lists & meal solutions backed by research
Nutrition Q&A's on topics requested by members
Restorative breathwork & meditations (10 min or less) for pain management, enhanced sleep, energy, mood & focus
Joint & fatigue-friendly yoga classes for improved fitness and range of motion
Bonus trainings & guest speakers (work, social, eating out, gut health, hormones, etc.)
A private community forum (NOT facebook) for more support & connection to like-minded members with similar goals
An easy-to-use app ... solutions in your pocket for on the go
These tools complement your medical plan; they do not replace it.
Start Your 14-Day Free Trial
What members say...
"After 2 weeks on the diet one of my more challenging symptoms decreased immensely." (Shelly H, Teacher, MS)
"The breathwork and yoga have helped calm my nervous system. Practicing the breathwork, even a few minutes while stressed during the day helps" (Lorraine, Business Owner, Oral Lichen Planus).
"I knew I needed more than just medication. I had tried some dietary changes on my own as well as with the help of a dietitian. None helped much." (Monika, Lymphocytic Colitis)
"I wanted to add a yoga practice into my daily life, but I wasn't able to do 'normal' yoga because of my mobility restrictions." (Member, Karin, RA, Hashimoto's, Type 2 Diabetes)
"Wonderful info and learning about more about mind and body connection. Food paths, insights into autoimmune nutrition, yoga & breathwork, coaching calls, community support" (Cammy, Fibromyalgia, Uveitis)
"There is a lot of detail, step by step information and a supportive team." (Brenda C, grandmother, Sjogrens and RA).
Yes! If you're ready to...
Have access to vetted professionals to ask questions and feel supported

Surprise your doctor (and yourself) with good news and progress

Follow a proven step-by-step plan every month, so you don't have to overthink or research what to do next

Improve your stress tolerance to minimize physical reactions & set backs

Figure out your unique food sensitivities & what to eat instead

Improve your fitness, range of motion & strength

Have more energy for yourself & loved ones

Improve your body composition & metabolic markers for disease

Offset the side effects of medications

Bust through food & fitness boredom, experimenting with new flavours and movement created for autoimmune lives
Ditch the belief that you have to "diet" or exercise harder to get inflammation down

Quiet the ruminating thoughts that keep you awake at night and improve your outlook while living with chronic illness

Have a positive relationship with your body ... it's NOT attacking itself. It wants to heal.
NO! If ...
You want to DIY your health and spend time duct taping resources together
You're looking for a magic quick fix or supplement
You're not ready to take the necessary next steps to help improve inflammation, digestion and stress resilience.
You prefer to spend money on cookbooks & several different apps in different places with different focus
You're under 18 years of age. You need your parents' participation in this membership.
Want To See For Yourself?
Help At Every Stage, Every Month
MEMBER SUCCESS PATHS
While you have access to all resources, we recommend you pick one path for your first few months with us so you can strategically build resilience in the area you need it most.
Nutrition Success Path: Action steps for an easy transition to your new eating plan, plus advanced trainings for those who help troubleshooting what they are currently doing.

Yoga & Breathwork Success Path: Introductory courses, mat and chair classes for beginners and deeper sequences for those who want to add to their practice.
NEW TRAININGS EVERY MONTH
Your on-demand library fits into your busy life & grows every month so you don't get bored & you can build progressive change.
Seasonal & thematic recipes, meal plans & fun cooking tutorials

with a focus on easy + nutrient density to feed and fuel immune regulation, digestion and stress hormones the right way
Restorative breath sequences & meditations (15 Min or less) for improved energy, focus, mood, pain tolerance & anxiety
Targeted yoga flows (15, 20, 30 & 60 Min) for improved range of motion, strength and immune resilience
Deep dives into various aspects of autoimmune, including supplements, superfoods, gut health, nervous system support, hormones, bone health, detoxification and other aspects of health that members request.
Bonus trainings delivered through live coaching & workshops.
YOUR QUESTIONS ANSWERED, COACHING & COMMUNITY
We personally answer each of our members questions.
Connect LIVE with team experts twice a month.
Connect in our private community forum (not facebook) for additional motivation & feedback.
Live access to guest speakers: gut health, functional medicine, strategies for work, gratitude, emotional eating, detoxification, hormones and more.
3 SIGNATURE COURSES FROM OUR PRIVATE CLIENT PRACTICES
Reality Based Meal Planning For Autoimmune
Transition to an easy-to-follow, nutrient dense eating plan over 4 to 6 weeks using The Autoimmune Nutrition Triad to feed & fuel your energy, immune and digestive systems. Our eating plans are all scientifically-backed and take into account individual intolerances.
Embodied Autoimmune Breathwork
This course helps members master how to target & improve pain, fatigue, sleep, mood and anxiety through the power of breath. Breathwork is recommended by many autoimmune associations to improve stress, nervous system and pain control, yet most don't know how to get started. We break down patterns and provide guided sequences that you can integrate into your day - at work or home.
Restorative Yoga - For Nervous System & Any BODY
Restorative Yoga brings the floor up to you, using blankets, pillows and blocks to support your body so you can reach a state of deep relaxation and relief. This series is for women who want a better night's sleep, enhanced mood & reduced pain. It is particularly helpful in the evening when bodies are tired and minds are wired.
"Vanessa helped me stay on track, especially on the days I wanted to give up"
"Vanessa is compassionate, informative, and motivating. Her programs are set in a way that you are gradually changing and improving your diet and lifestyle. She helped me stay on track, by providing me the 'pep' talk I needed to push through, especially on the days or weeks I just wanted to give up. I don't think I would have been so successful without her and her amazing programs."
- Victoria S, RA, Lupus, Sjogren's
"Vanessa's approach is very different from my previous experiences. I am a perfectionist and in the past I would jump in 100% with a new eating plan and try to be perfect. However, with Vanessa's approach, she helped me to build a better relationship with food. She created a protocol that was flexible to suit my specific needs. It continued to support me to be healthier, but I didn't feel deprived or too overwhelmed (like I did in the past). I also liked her level headed approach between the medical and holistic industry. Again, it was a good balance between the two and not the one or the other."
- Karin R (Hashimoto's, RA and Type 2 Diabetes)
"Lori's

breath & movement tools are now part of my everyday life ...

I suffer from fibromyalgia & chronic pain."
"I have been a student of Lori's restorative practice for over 7 years. Learning restorative yoga and mindfulness from Lori has truly been life changing for me. I suffer from fibromyalgia and chronic pain. Some days are much tougher than others and the breath and movement tools I have learned are now part of my every day life. I'm so grateful for her patience, her calm gentle encouragement and her positive energy. I encourage anyone with chronic pain to try Lori's classes. The mind body connection is real and powerful!!"
- Tanya H, Fibromyalgia
"I like that it combines nutritional information with breathing exercises and restorative yoga. I think that's a good combination. Most autoimmune issues can't be improved with a singular approach. The seated flow was my favourite exercise, and I also enjoyed doing some of the breathing exercises."
- Monica, Lymphocytic Colitis
Wait... what's included again?
-1-
An Autoimmune Nutritionist In Your Pocket!
We clear up any confusion as to which foods are best for YOU. Deep dives into nutritional science, supplements, offsetting medications, various conditions & the importance of nutrient density. We take a nourishing mindset vs a long list of foods to avoid.
-2-
Autoimmune-Friendly Recipes & Easy Meal Planning For Busy People
Practical, delicious anti-inflammatory recipe books & DFY meal plans to make nutrition EASY.
Reality-Based Meal Planning: step-by-step instructions on how to transition what you're eating without stress, so it works for you & family members
Anti-Inflammatory / Itis - the #1 medically recommended program for autoimmune that we have upgraded for North American lifestyles (rheumatic & neuromuscular)
The Autoimmune Paleo Protocol (AIP or modified AIP) for those who want a more therapeutic approach (medically backed research for IBD & thyroid)
Troubleshooting Plans and recipes for various conditions & health challenges so members don't have to search elsewhere (i.e., Paleo, hearth health, low FODMAP, oxalates, keto, kidney)
Kitchen Hacks: 400+ recipes, 12+ weeks of done for you meal plans with grocery lists, pantry swaps, budget-saving tips
Monthly instruction & personalized feedback so this works for you, family & busy life
-3-
Professionally Guided Breathwork & Meditation To Improve Stress Resilience
Our classes help target and calm the nervous system to help you move through physical or emotional stressors triggering an immune an immune response, or additional discomfort.
Live meditations & breath practice twice a month
Library of breathwork sequences

for improved energy, focus sleep, digestion, pain and other aspects of autoimmune
Short Guided Meditations

to help increase focus and support you during flares or mental stress

Embodied Breathwork For Autoimmune Course combining neuroscience with trauma release
-4-
Mindful Yoga For Autoimmune-Friendly Fitness
Our classes are created based on years experience to improve range of motion & strength (honouring energy, sore joints & muscles), and improve cardiovascular health without over taxing the body or including long walks/runs.
A get-started library of 50+ classes for all of levels experience, including mat, standing and chair (new classes added monthly)
Designed to fit into your schedule (15, 20, 30 and 60 Min classes)
Instructional breakdown

of yoga postures, why/how they support health
Restorative Yoga Course to help improve pain tolerance, mood and sleep
-5-
Live Community Support & Personal Feedback
Where the magic happens! We personally answer all questions and help you APPLY what you're learning:
Nutrition, Breath and Movement Pathways for Success - Your first three months laid out of you so you can follow a plan that aligns with your health goals
2 Live Coaching Calls Per Month + Nutrition Q&As with our community experts so you can ask questions
Guest speakers

on subjects that matter to members (functional medicine, gut health, hormones, workplace, etc.)
Private Community Forum (not Facebook) to post Qs & connect with other like-minded members
-6-
Easy To Use Technology & APP For On The Go
A membership should not tie you to a computer. We include an APP for easy-access resources no matter where you are in addition to being able to log in from your computer or tablet.

Meal plans, grocery lists & resources at the grocery store
Breathwork & meditations for quick resets at work or where you need it most
Yoga in the park, with friends or bedside
Listen to monthly tutorials while you walk or in the car!
Start Your 14-Day Free Trial
"Kristin has gotten me back to sleep at night."
"This is a supportive place with lots of tools on the app that can easily incorporate throughout your day to bring calm and regulate nervous system. I'm particularly loving the the guided mediations and breathing exercises"
- Anita, Hashimoto's and Type 1 Diabetes
"The breath pattern Kristin taught me has gotten me back to sleep at night without playing back 20 scenarios in my mind and exhausting myself 30 minutes before the alarm goes off."
- Marianne B
WHAT ARE YOU WAITING FOR?

The Integrative Autoimmune Network
-
Too good to be true?
We created what our clients and communities asked for ...affordable professional guidance, motivation & support to help you make a shift in your health seven days a week.
Quite simply, there isn't anything like this for autoimmune in the health industry.
As women with autoimmune in our lives, it is our personal mission to remove the physical, emotional and financial strains of autoimmune, so you can feel empowered in your health and ability to work with your body, even when it doesn't always do what you want it to do.
If you're ready to follow a step-by-step plan with vetted professionals, we invite you to join us.
What If I Don't Want All Three (Nutrition, Yoga, Breath)?
How Much Time Do I Need To Commit Each Month?
What Results Can I Expect?
What If I'm Already Working With A Holistic Doctor?
When Will New Content Appear?
What Age Do You Need To Be To Participate?
What Is The Cancellation & Free Trial Policy?
Why Is This Price Too Good To Be True?
ARE YOU READY TO JOIN TODAY?

The Integrative Autoimmune Network
-